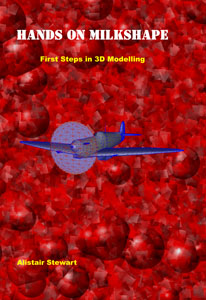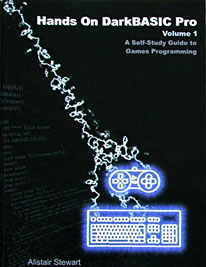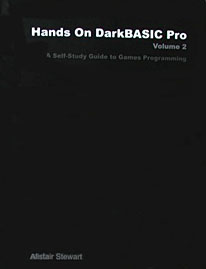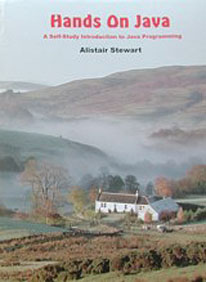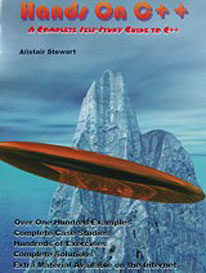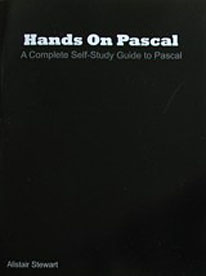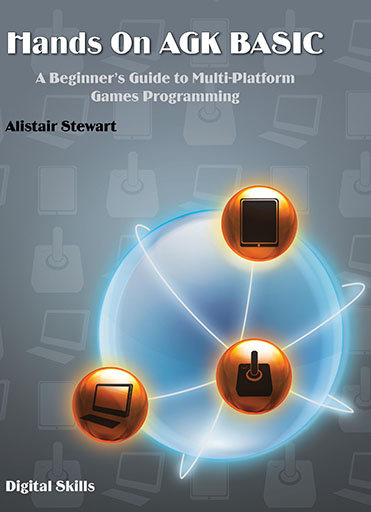 December 2014
It's been many years since the website has had a makeover since most of the limited manpower has gone into writing books. However, with HTML5 now widely adopted (and with access to Dreamweaver CC) it's time to work on a revamped site. Look out for the new layout at the beginning of 2015.
November 2014
Has it really been 10 months since I last updated the site! Well, it's not that I haven't been busy in that time. While waiting for AGK to come close to a final release of version 2, I've been working on an update to Hands On C++ and a new book called Hands on Tkinter for Python 3 as well as beginning the rewrite of the early chapters of Hands On AGKBASIC. All I have to do now is finish at least one of them!
January 2014 - Happy New Year
At long last we have our hands on a copy of the early version of AGK version 2. As you will be aware, there are again many new commands to be described and exampled. In fact, there are so many new commands that we've decided that it's time for Hands On AGK BASIC to go the same way as Hands On DarkBASIC Pro and split into two volumes when we bring out the second edition to cover the latest version of AGK.
Currently we expect to charge 12.48GBP for each volume of the next edition and for the two volumes to be in excess of 1500 pages.
Of course it will take some time to write up the new edition and we also have to wait for all the new features to be added to AGK itself, so it will be some time before we have a final version of the book. But on the other hand, we'd like to keep selling some books in the meantime! So our promise to anyone who has bought the current version of the book directly from us or has registered for free updates, that we will make all updates to your ebook free after an additional payment of 10.00GBP (to cover the difference in the price between the first and second edition).
October 2013 - Hands On AGK BASIC Second Edition
Well, the summer break is over and the cooler weather has forced us back indoors and in front of the keyboard.
Like most of you, we are eagerly awaiting AGK version 2. With this we can start on the second edition of Hands On AGK BASIC . At the same time we'll be updating some of the current book's text to reflex slight changes in AGK's characteristics since the book was first published.
But while we're waiting, Hands On C++ second edition is well under way. The book will cover the core C++ language - a great place to start for anyone considering using AGK Tier 2 but doesn't yet know C++.
June 2013 - Hands On AGK BASIC - Updates and Supplements
Thanks to everyone who emailed to say how useful they have found the latest supplements to Hands On AGK BASIC. We really appreciate the feedback. In fact, we often rely on you to make us aware of any mistakes that need to be fixed or changes that are required. Of course, with the ebook edition it's quite simple to produce an updated version, so please tell us if you find anything that needs changing and we'll send you a free copy of the updated ebook. You can contact us at comments@digital-skills.co.uk.
And, yes, we are working on supplement 4.
May 2013 - Hands On AGK BASIC - Supplement 3
By now, if you signed up for the free updates to Hands On AGK BASIC, you should have the first two supplements covering 3D Graphics and Memblocks. But we are already hard at work on the next supplement.
This time it covers just a single statement - DrawLine() - and yet will be about 40 pages in length. Using AGK's only draw command, you can create lines, rectangles, circles, ellipses, and even exotic things like Bezier curves. But perhaps the coolest option is using it to create wireframe displays from a 3D OBJ file (see below).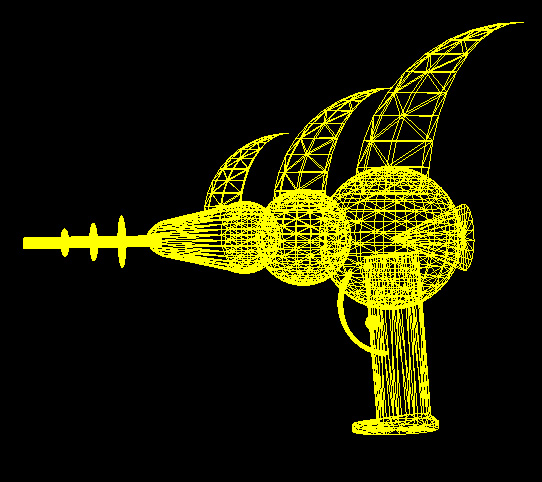 April 2013 - Hands On AGK BASIC - Free Extract
At last we have added an AGK BASIC section to the website (just press AGK BASIC above). You'll find the usual four pages giving an overview of the book, detailed chapter-by-chapter contents, sample chapters and the associated resources files.
We've extended the sample pages extracted from the book to include the first 7 chapters (that's 190 pages!), but that still leaves about 800 pages to go when you include the latest supplements.
April 2013 - Hands On AGK BASIC Supplement - Chapter 24 Memory Blocks
The next supplement to Hands On AGK BASIC is almost ready. If you've signed up for the updates, we'll be sending you details of how to download your copy by the end of this month. This time it's a 50+ page supplement.
If you haven't signed up for your free updates, see the January 2013 entry below for details.
This supplement shows you how to use memblocks to create data structures not natively available in AGK BASIC as well as how to save these structures to a file. In addition, a project at the end of the chapter shows you how to implement your own Mandelbrot exploration program (see the sample image below for a snapshot from the program).
February 2013 - Hands On AGK BASIC Supplement - Chapter 23 3D Graphics
Thanks to everyone who has applied for the free supplement. Our expected completion date for this first supplement is Monday 11 February.
Details on how to download the supplement will be sent to everyone who has registered (see January 2013). Details of future supplements will also be sent periodically as and when they become available.
Supplements will be added to the full PDF version of the book shortly after they are released.
January 2013 - Hands On AGK BASIC Supplements
Shortly we will be issuing the first supplement to the Hands On AGK BASIC book. This will cover the 3D statements currently available (AGK release 1088) and will be approximately 100 pages in length.
All updates for this version of AGK will be available free to anyone who has bought the printed or ebook versions of Hands On AGK BASIC. To apply for the free PDF update, please email us at agkupdates@digital-skills.co.uk giving details of your purchase. We need the following information:
The name of the company from which you purchased your book
The format of your book (printed or ebook)
Your original purchase order number (this may not be necessary if you purchased from Digital Skills)
After receiving your email, we will contact you each time a new supplement becomes available giving you details of how to download the new material.
December 2012 - HANDS On AGK BASIC PDF eBook
Although it was our intention only to offer the AGK book in printed format, the rapid changes to the AGK language at this stage in its life cycle has made such a policy no longer practical. Therefore, we are now offering the AGK book in ebook PDF format for 16.96 GBP.
Anyone purchasing the current Hands On AGK Basic (printed or ebook) will be elligible for free updates (in PDF format) to the book covering the new features of AGK version 108.
To order your copy click on the Orders option at the top of this page. Payments are made through PayPal (though you don't need a PayPal account to purchase - they will simply take your credit card details).
Please note that it will take a few hours for PayPal to check your payment and to inform us of your purchase. Once that has happened, we will email you details of how to download your book. This will take a maximum of 24 hours but is normally much less.
November 2012 - Hands on AGK BASIC Update
The first section of the supplement for Hands On AGK should be finished later this month. This first section covers the 3D commands which were added to AGK in the October update.
Please note that the supplement will only be available to those who have purchased the Hands On AGK book. You can order the book by clicking on the Order button above.
October 2012 - Hands On AGK BASIC Update
Now that TGC have released a new version of AGK, we will be creating a supplement to Hands On AGK BASIC which covers all the new commands made available in this release. This supplement will be released in PDF format and be available free-of-charge to all of those who purchase Hands On AGK BASIC.
June 2012 - Hands On AGK BASIC Files
With the first batch of AGK books now on their way, you can download the various resources used in the book here
June 2012 - Hands On AGK BASIC Book NOW IN STOCK
The books have arrived back from the finishers and are available for purchase. Click on Order and select the correct region. Be warned, this is a BIG book!
June 2012 - Hands On AGK BASIC For Sale
The presses are running! Hands On AGK BASIC is now available for pre-order (see the Order page).
We expect the book to be available from 23 June so, if you order now, you can have one of the first copies hot off the press.
Please note that the money will be deducted from your PayPal account as soon as you order but you will receive an acknowledgement and order number.
June 2012 - Hands On AGK BASIC Completed
At last, all 770 pages of Hands On AGK BASIC are complete. After a final proofread, printing will get started in another few days. The book will be available for purchase by the second half of this month.
May 2012 - Hands On AGK BASIC Update
The new statements available with release v107 of AGK are being written up now.
A couple of those statements are Text resource related and hence belong in Chapter 14 (available as a free download in PDF format - see the February link below). That PDF file has now been updated to include these new Text statements.
May 2012 - Hands On AGK BASIC
While we wait for the latest version of AGK, here's a look at the current contents of the Hands On AGK BASIC book
Chapter 01 - Algorithms
Chapter 02 - Starting AGK
Chapter 03 - Data
Chapter 04 - Selection
Chapter 05 - Iteration
Chapter 06 - A First Look at Resources
Chapter 07 - Spot the Difference Game
Chapter 08 - User-Defined Functions
Chapter 09 - String and Math Functions
Chapter 10 - Arrays
Chapter 11 - Advanced Data Types
Chapter 12 - File Handling
Chapter 13 - Particles
Chapter 14 - Text
Chapter 15 - User Input
Chapter 16 - Images
Chapter 17 - Sprites
Chapter 18 - Animated Sprites
Chapter 19 - Screen Handling
Chapter 20 - Physics
Chapter 21 - Networking
Chapter 22 - Bits and Pieces
The early chapters are relatively short (as little as 20 pages) whereas later ones can be large (80 pages).
Although only one chapter is devoted exclusively to creating a game, there are several embryonic games included within various other chapters.
Currently, the book runs to 650 pages; expect another 50 or so for the additonal commands coming in the latest AGK update.
February 2012 - Hands On AGK BASIC
Those of you who have read the lastest edition of The Game Creators newsletter will know that a major update of the AGK compiler is due in a March/April time slot. The update is due to introduce many new commands to the language. And, since it would be rather pointless publishing a book that was out of date within weeks of its release, we have decided to delay publication of Hands On AGK BASIC until after the AGK update is released so the new commands can be added to the book. Hopefully, the book will be on sale about 4 weeks after the new AGK compiler is released but this depends, to some extent, on the number of additions that are required.
However, for those of you who have waited so patiently for Hands On AGK BASIC we thought it only fair to at least give you a little taster of the book itself. So click on this link to download a PDF version of a chapter from the book Hands On AGK - Chapter 14 (4.27MB).
If you have any constructive comments to make about this chapter, please email us at comments@digital-skills.co.uk.
Please note that although the PDF is in colour, the printed book is not in colour. Also the book will be available in printed form only. Much as we would like to offer it in ebook form, our previous ebooks have been pirated so heavily that we will not be offering that format for any new titles.
December 2011 - Book Cover Competition Winner
The winner of the book cover competition is Sébastien Leroux from Switzwerland.
The bad news is that the book won't be available for Christmas as we'd hoped. Latest estimate is early February.
November 2011 - Book Cover Competition
Thanks to everyone who entered our book cover competition. We were amazed by the number and quality of the entries. We had a difficult time (and a few heated discussions) reducing the entries to six finalists (it was going to be four but we just couldn't get it down to that few!). The finalists will be receiving emails requesting larger versions of their entries by Friday 4th November.
The Hands On AGK BASIC book itself gets thicker as the weeks go by (over 500 pages now). It has been designed as a complete beginners guide, not just to AGK BASIC, but to programming in general. We expect it to be available for purchase in December 2011 or January 2012 - we'll be able to give an exact date when we next update this News page on December 1.
September 2011 - Hands On AGK BASIC
You can't have failed to notice The Game Creators must-have new software, AGK which allows you to create games that will run on just about any platform or device. Phones, tablets or computer - an AGK app will run on them all!
It's such a great piece of software that we have made the completion of our new book Hands On AGK BASIC our number one priority and are hoping to have it available in time for your Christmas list!
But since we are so busy writing the book, we thought that it would be nice if you got the chance to design its cover. So we are running a competition for a cover design with a 250.00 GBP (about $400.00) prize and a chance to see your design on the front of the book. Competion rules are given below.
BOOK COVER COMPETITION
Competition Details:
Image Sizes:

The cover design submissions must be 1,200 pixels by 800 pixels and in jpeg format.

The top five finalists will be asked to resubmit their entry as a 12,000 pixels by 8,000 pixels image in bmp format.



Cover Topic:

Since AGK allows only 2D gaming, the cover should also be 2D in nature. That is, there should be no images created using 3D packages. Other than that, no content restrictions apply.



Image Content:

The cover design will be for the front cover only, spine and back cover elements will be added by Digital Skills. Also remember that the book is guillotined to size. This will involve a loss of approximately 40mm from both the top and bottom of the cover and about 20mm from the vertical edges.

The image you submit will be overlaid by text, so don't position any vital part of your design too near the top where the book's title will appear.



Dates:

All entries must be submitted by 31 October 2011.
Finalists will be asked to submit a high-resolution version of their entry during November and the winner announced on 1 December 2011.



Submission Details:

Send your entry to CoverComp@Digital-Skills.co.uk giving your name, age (if under 18), email address and add your cover image as an attachment.

You may submit multiple entries.



Legal Requirements

The design you submit must be entirely your own work. No part of the cover design can be obtained from other sources - even copyright-free images.

The winner will be asked to sign a legally binding document confirming that the cover is entirely their own work and that they transfer copyright of the image to Digital Skills.

The choice of the winner will be made by Digital Skills. Their decision is final and binding.
August 2011 - Hands On FPS Creator
We seem to have been working on Hands On FPS Creator forever, but it should be with you at the start of the new year. And just to prove we really have been hard at work, anyone purchasing one of our other books (printed or ebook) directly from us will be offered the option to download a copy of the first two chapters of Hands On FPS Creator for free.
These two chapters cover a basic overview of the FPSC package and how to use prefab and room segments. Anyone just starting out on FPSC should find them invaluable. When you make a purchase, our acknowledgement of your purchase will supply details of how to download the chapters.
May 2011 - Counters and Timers Part 2 - DarkBASIC Pro Techniques
This month concludes the article on counters and timers. Go to the DarkBASIC Downloads section for the complete article in PDF format and the associated files.
April 2011 - Counters and Timers - DarkBASIC Pro Techniques
This latest DBPro article shows you how to create counters and timers for your games. In part 1 this month, we show you how to create a counter using sprites and demonstrate its use in a simple game.
As usual, this PDF article and associated files can be downloaded from the DarkBASIC Downloads page.
March 2011 - Bubblewrap Heaven - A New DarkBASIC Pro Program for Beginners
With so many buying our new format Hands On DarkBASIC Pro ebooks, we thought this was a good time to add something aimed at the beginners amongst you. So, if you click on the Downloads section of the DarkBASIC page, you'll find we've added a new Bubblewrap popping program. The download is a PDF file for viewing on your PC, tablet or Kindle DX. It is written in the style of the DBPro books so it takes you step-by-step through the whole process from creating images and sounds to the program logic and code.
December 2010 - Just in time for Christmas - Hands On DarkBASIC Pro Volume 2 in eBook Format
With the release of the second volume, you can now have the complete Hands On DarkBASIC Pro publication in ebook format for a fraction of its original price.
Click on the Order button at the top right of the screen and enjoy almost 1500 pages packed with activities and solution - and in full colour. Designed for easy viewing on the iPad and Kindle DX.
Merry Christmas
October 2010 - AT LAST - Hands On DarkBASIC Pro Volume 1 in eBook Format
So many of you have asked for so long that we have actually gone and made Hands On DarkBASIC Pro Volume 1 available in ebook format.
It looks particularly good on the Kindle DX and the iPad (where everything is in colour).
Those of you outside Europe have paid a hefty price for the physical book (half of that cost was postage) but now you can have the whole volume for just
14.95 GBP
Just click on the Order button at the top right of this page. Pay using PayPal for absolute security.
September 2010 - Hands On Milkshape Ebook now Available in iPad format
At last Hands On Milkshape is available in iPad format.
Once you've paid and been sent details of how to download the ebook, simply choose the iPad option.
August 2010 - Hands On Milkshape Ebook iPad Edition
A iPad version of Hands on Milkshape will be available by the end of this month (look in the Orders area).
You can no longer buy individual chapters of Hands On Milkshape. Anyone wanting to complete their collection of individual chapters should email us at sales@digital-skills.co.uk.
April 2010 - Hands On Milkshape Ebook Complete
Well, we've completed the conversion of Hands On Milkshape to ebook format. You can now purchase all the chapters of the book at 0.99GBP each or the complete book as a single download priced 9.90GBP (click on the Order button above).
January 2010
Happy New Year to everyone! Like a lot of others, we're well and truely snow-bound at the moment. Still that leaves plenty of time to get on with Hands On FPS Creator.
Hope all of you who have been buying the ebook version of Hands On Milkshape are enjoying the experience. Some feedback - especially from those of you reading it on a Kindle DX - would be appreciated.
I can't believe that Digital Skills is now in its eigth year - doesn't time fly when you're having fun.
December 2009
Hands on Milkshape in PDF format
Well, we have eventually decided to try offering our latest book (Hands On Milkshape) in PDF format.
Over the years we've had so many people ask for our books in electronic format and at last we're taking the plunge to test the waters, as it were. There are several reasons for our decision:
Rising printing costs
Rising shiping charges (especially outside the EU)
The increasing relevance of ebooks
The availability of large screen ebook readers
We are offering Hands on Milkshape in full colour, PDF format. There will be no DRM security on the files, so you can read the book on any device that accepts that format.
The book files have been tested on a Kindle DX ereader where they give excellent results. When the Plastic Logic ereader is available, the files will be tested on that device too. Smaller screen ereaders will not be suitable for displaying the files.
Of course, if you want to see the book in full colour, you'll have to view the files on your computer.
Hand On Milkshape is being sold in single chapter blocks at 0.99GBP per chapter, so you don't even have to buy the whole book if you just want to read about one particular aspect of the package.
But the best part is that the total cost of the complete book will be just 9.90GBP - less than half the cost of the printed edition! And, of course, there is no delivery charge!
For more details click on the Order button above.
Hands On FPS Creator
The latest book in the works is Hands On FPS Creator which will cover all aspects of FPS Creator - another great piece of software from The Game Creators.
Expect to see the book sometime around summer 2010.

September 2009 - Hands On Milkshape
At long last the book is complete and is now at the book finishers. Copies should be available in the next few days.
Notice that we've added a Milkshape section to the website. In that section you'll find a detailed description of the book's contents and two sample chapters in PDF form (chapters 3 and 8).
The Order page also contains a link to let you purchase the book. But remember there may be a few days delay before we can send out your book
July 2009 - Hands On Milkshape
Still hard at work on Hands On Milkshape which should be available by the end of August.
Unfortunately, due to increases in postal charges and other costs, we're going to have to increase our charges for the Hands On DarkBASIC Pro books by 2.50GBP from the end of this month, so this is your last chance to get them at current prices - click on the Orders link at the top of the page.
May 2009 - Hands On Milkshape
You can't be creating 3D games (in DarkBASIC or any other package) without using a 3D modelling package. And one of the easiest is Chumbalumsoft's Milkshape by Mete Ciragan. It's one of the simplest 3D packages around, but you'll be amazed at just how much it can do. Better still, if you're a complete novice at 3D modelling, you'll be an expert in this package after a few weeks - not the years it might take with some other packages. You can download a FREE copy of Milkshape from the ChumbalumSoft website. The full package costs only $35.00.
The Hands On Milkshape book will be available from August 2009 (priced 21.50GBP). It's about 300 pages in length and, as usual, it is full of Activities to get you experienced in using the software (and the solutions are there too).
The book contains the following chapters:
Background Concepts - 3D Space and Modelling
The Milkshape Interface
Basic Constructs and Operations
Primitives
Reshaping Meshes
Extrusion
Additional Tools
Groups
Creating Models
Texturing
Animation
Using Your Models in Another Application
If you'd like a sneek preview of the book, you can download a PDF copy of Chapter 3 by clicking on the book cover image above. The 3D models needed to work through the activities in Chapter 3 are in here.
The chapter covers the very first steps in creating and manipulating vertices and faces. The PDF file shows the pages in full colour, but the book itself will be in black and white.
Your comments, please. We'd really like to get your comments on what you think of chapter 3. Anything that should be added or changed? Any errors? Any of the descriptions unclear? There's still time to make some changes! Email your comments to comments@digital-skills.co.uk. Please title your email Milkshape.
April 2009
This month sees the last part of the Ludo game and some suggestions on additional features you might want to add to the program. Find the material in the New Text section of the DarkBASIC pages.
Next month I'll be putting up a PDF chapter from the forthcoming Hands on Milkshape book.
March 2009
Oh dear! This was meant to be the February installment.
This month it's part 3 of the Ludo game gives the Level 1 routines. The final part will appear next month.
As usual, you'll find the material in the New Text section of the DarkBASIC pages.
January 2009 - Happy New Year
This month we've added the second stage of the Ludo game started last month.
As usual, you'll find the material in the New Text section of the DarkBASIC pages.
December 2008 - Merry Christmas
I've been spending so much time working on Hands on Milkshape that I've been neglecting the website, so to make amends I've added the first installment of a new DarkBASIC Pro game. It's the classic game of Ludo and it makes use of some of the earlier stuff I've covered here such as updatedable records and the slider control.
You'll find the material in the New Text section of the DarkBASIC pages.